Bed Bug Exterminator That Takes Immediate Action
Bed bugs may be the subject of a familiar bedtime rhyme, but they are also a real problem for many homes and businesses across the United States. They travel well, can be picked up anytime you're out in public, and are happy to infest whatever building they find themselves in. If you suspect bed bugs have gotten into your Greater Richmond home or business, taking immediate action is essential for a quick resolution. Pestmaster® Services of Richmond can help.
Our Bed Bugs Treatment Process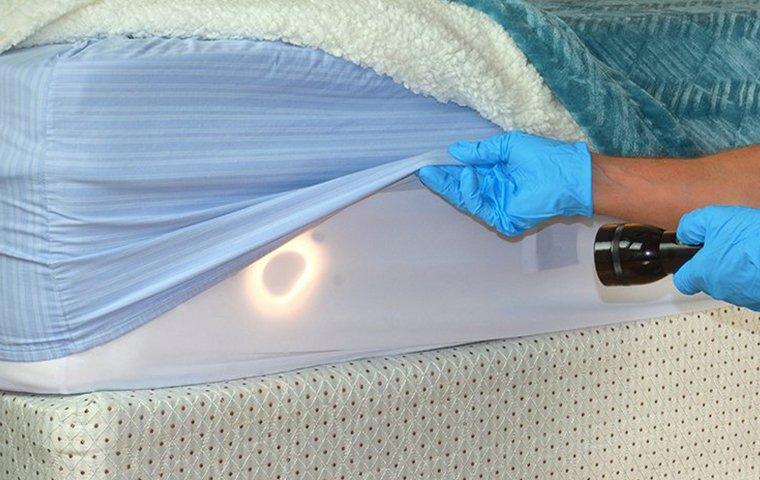 Bed Bug Inspection
Prior to treatment, we'll inspect the building to determine if beds are present and how widespread the infestation has become. Based on our findings, we'll recommend the best course of action, provide you with a prep sheet, and schedule an appointment for your treatment.
Bed Bugs Treatment Methods
Our Integrated Pest Management practices ensure that you receive the right kind of treatment for your particular problem. Treatment methods include:
Chemical & Steam Treatments
Our most common combination of treatment methods (chemical and steam) begin with some prep work, such as removing clothing from closets and dressers and placing them in clean bags. We'll steam these areas, then apply a product to flooring, closets, dressers, beds, and other areas. In areas with a high volume of bed bugs, we'll vacuum as well. We also treat cars and car seats and offer mattress encasements.
Biological Treatments
Apprehend is a biological fungal spore treatment that bed bugs pick up when they walk through it. It remains active up to three months after application.
Freeze Treatments
Freeze treatments are a great solution for certain sensitive items, such as toys or electronics.
Heat Treatments
Heat treatments are a bed bug treatment method that typically eliminates bed bugs in just one treatment. We subcontract out this service.
Treatment Follow-Up
Our bed bug service comes with follow-up treatments, as well as a booster treatment if needed. With each follow-up, we'll inspect the area to determine if the bed bug infestation is gone.
Our Bed Bugs Treatment Warranty
Our bed bug service comes with a 30-day warranty. After the 30 days, you have the option to purchase additional months or an entire year. This option allows you to rest easy, knowing your home or business will remain free of bed bugs. Contact us at Pestmaster® Services of Richmond to get started or check out our entire Virginia service area.