Termite Control and Inspection That Keeps You Informed at Every Step
Termites are pests that prefer to stay hidden. Most termites are unable to come out in the open, so they spend their lives underground or within the walls of your home. When they get in your house, they'll chew tunnels through the wooden structures inside, creating more and more damage over time, sometimes to the point of compromising the structural integrity of your house. Just because you can't see the damage doesn't mean it's not there. Protecting your home against termites and the damage they cause is vital to it's health..
Our Termite IPM Process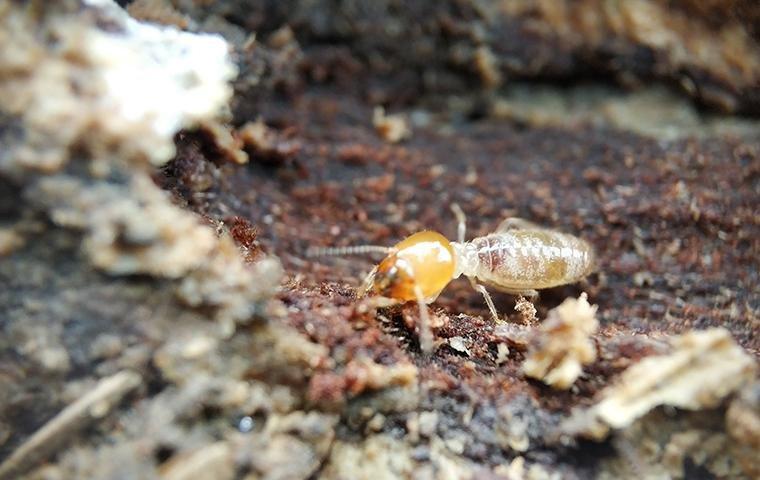 Termite Inspection
Inspections are an important part of the termite control process. Our trained professionals know what termite damage looks like and where to look for it. By performing a termite inspection prior to treatment, we can determine if termites are active in your house or if we're providing a preventative treatment.
Termite Treatment
At Pestmaster® Services of Richmond, we offer a variety of termite control methods. Through our Integrated Pest Management practices, we'll suggest the best treatment course for your home to eliminate active infestations and prevent future ones.
BoraCare
Our BoraCare treatment treats the wood itself and is especially effective for use during the construction of a new home. This treatment comes with a renewable one-year warranty.
Termidor
Our Termidor treatment is a liquid termite treatment that is trenched into the soil around the perimeter of your house to form a barrier of protection. It comes with a renewable one-year warranty.
Sentricon® System with Always Active™
Sentricon® with Always Active™ is a termite baiting system. We'll install bait stations in the soil around your house. These stations are regularly monitored and provide 24/7 protection against termites. The Sentricon® System with Always Active™ comes with a one-year warranty that is renewable and transferable.
We Provide Wood-Destroying Insect Reports
You wouldn't purchase a home without first getting a home inspection performed. You should also get a Wood-Destroying Insect Report done. Lenders often require these reports before they'll approve your loan, and they protect you by ensuring that your new house does not have termite damage. We'll inspect the home, write up the report, and provide you and other necessary parties with a copy of the report.
Termite Control and Inspections You Can Trust!
As certified providers of the #1 termite treatments on the market, you can trust Pestmaster® Services of Richmond to deliver the best termite control available to protect your home. With our one-year renewable warranties, you can also feel confident that our termite treatments work. Contact us to schedule your free termite inspection or sign up for termite control today!.